Over 2000 from all over the world turned up for the Tusterlite Rwenzori Marathon today in Kasese .The most Mountain Challenge involved a 42KM route, 21KM route and 5KM and participants included professional and unprofessional athletes from different parts of the world.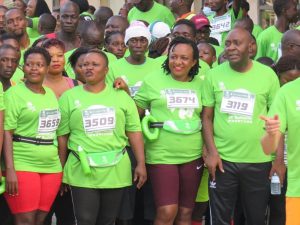 Komwei Vitalis emerged the best male runner in 42 Kilometers, Viola Chemos Munerya the best female in 42 Kilometers , while the best female in 21 km, is Ms. Ajok Dorcus and the best male in 21 km,  Abel Chibet all from Kapchorwa district.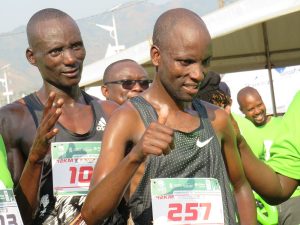 The run also attracted people from different walks of life including  persons with disabilities , the elderly and children . And served as a platform for advocating for inclusiveness.
.The business community also reported an increase in income as hotels, boda-bodas, market vendors and others ran out of stock as the demand for their products raised beyond their capacity.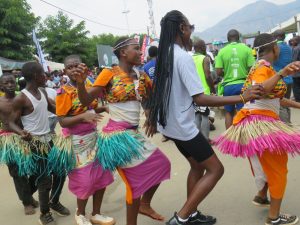 District leaders who joined the Marathon included; the State Minister for National Guidance , Hon. Godfrey Baluku Kabyanga, Kasese Municipal MP. Hon. Ferigo Kambale, Hon.Harold Tony  Muhindo, Hon. Sowedi Kitanywa, TheDistrict Chairperson and the Mayor for  Kasese Municipality, Chance Kahindo among others.
They expressed their gratitude to the organisers of the Marathon and partners like Nile Breweries , Hima Cement , Britam and other partners for choosing Kasese for the Rwenzori Marathon and giving them an opportunity to showcase the potentials in the district and all pledged continuous participation and support.
The Rwenzori Tusker Lite Marathon is part of the Rwenzori Theluji festival which will annually happen in Kasese  to showcase the stunning landscapes of the Rwenzori Mountains and Queen Elizabeth National Park, including its famous glaciers, towering peaks, lush forests and expansive savannah.