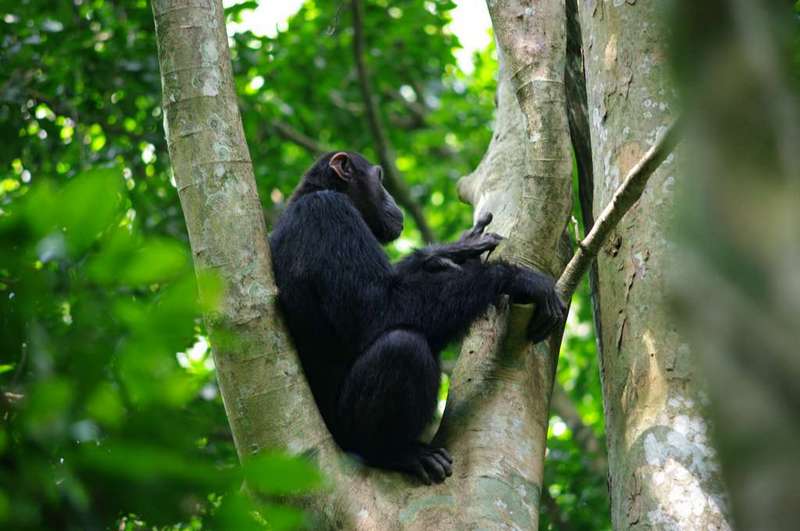 located in southwestern Uganda is a tropical rainforest that harbors quite a number of wildlife species that have attracted many tourists to come into Uganda. This national park has contributed widely in Uganda's tourism industry because it harbors some endangered species that catch the traveler's eye. Chimpanzees are primates that share about 90% of their DNA with human beings and have been habituated in Kibale Forest National Park. Uganda in total has about 4950 chimpanzees and Kibale National Park holds about 1500 chimpanzees. Chimpanzees are also visited by travelers for 1 hour which is the same for gorilla trekking. However, chimpanzee trekking also has an option for travelers to spend more time with the Chimps and this is called Chimpanzee Habituation.
Key Species of Birds
Red-winged Francolin, Red-chested Flufftail, White-naped Pigeon, Green-brested Pitta, African Pitta, Joyful Greenbul, Grey-winged Robin, Abyssinian Ground Thrush, Grey-throated Flycatcher, White-bellied Crested Flycather, Masked and Black-capped Apalises, Uganda Woodland Warbler, Chestnut-winged Starling, Orange-tufted and Tiny Sunbirds, Grey-headed Olive-back.
Other Wildlife
Kibale has a well-established Chimpanzee-tracking program with a high success rate. Other primates that may be found on these guided walks include Guereza Colobus, Olive Baboon, Grey-cheeked Mangabey, L'Hoest's Gentle ( Blue) and Red-tailed Monkeys is more likely to be found in open areas adjacent to the forest. You may find evidence of Elephant, Bush Pig and Bufallo along the trails, whilst Bushbuck, Blue, Harvey's and Peter's Duickers are other shy inhabitants of the forest interior. The guided night walks are also rewarding: Potto, Spectacled Demidoff's and Thomas's Galagos, Lord Derby's Anomalure, African Civet and Common Genet are all possible.
Other interesting mammals from the list of over 60 species include Ichneumon, Banded and Marsh Mongooses, Alexander's Cusimanse, Swamp Otter, Ratel ( Honey Badger ) and African Palm Civet. Although Golden Cat, Serval, Lion, Leopard, Warthog, Giant Hog and Hippopotamus are recorded from the park, they are unlikely to be encountered in the Kanyanchu area. Sitatungas are known from Bigodi Swamp but are infrequently seen. The spectacular and beautiful Rhinoceros Viper is fairly common here but is, unfortunately, less often found alive than as a road-kill.