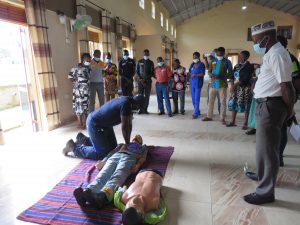 Kasese District Local Government in Partnership with Malteser international launched Emergency Medical Ambulance Services yesterday 24th May 2020 at Rwenzori International hotel to elevate the district capacity to respond to emergencies.  The event proceeded with a 10 training of Ambulance drivers and medical workers trained by National Emergency Instructors who after the training will become front-line staff in providing emergency medical services across the district.
Kasese is a district prone to disasters however the district is lacking trained emergency health practitioners and effective ambulance system. This means that accident and disaster victims do not receive prompt emergency response and appropriate care.
On May 7th, 10th and 20th May 2020, the district was devastated by floods after the major rivers burst their banks seven years after the similar floods. The floods affected 9916 households and displaced 1775 households. In response to the floods, Malteser international joined Kasese District Local Government on 10th May to respond to health emergencies with 8 ambulances and a team of 44 para medical Workers.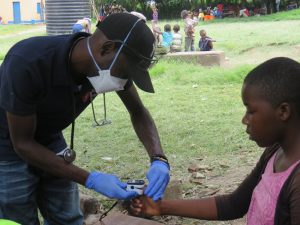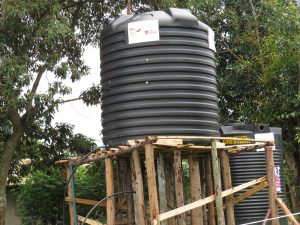 Since then, they have delivered 103 babies, 4 deliveries conducted in their ambulance, 1,158 referrals, given psycho-social support to 1,932 affected people and supplied 389,140 litres of water to 13 locations in affected 7 sub counties.
The team expected to support Kasese for a period of 1-2 weeks but because of the continuous high demand for their exceptional services, they decide to extend their period of service to the affected people in the district.
Kasese has some hard to reach areas and mothers with complicated deliveries fall victim because the district is still having a rudimentary emergency medical care system.
Uganda is developing its Emergency medical system and framework for delivery of cost effective services in both rural and urban settings.
Now, it is against this background that Kasese District Local Government with support from Malteser International decided to come together and equip ambulance drivers and medical ambulance staff in the district with knowledge and skills of handling common emergencies out of the hospital environment.
Aggrey Winston Muramira, now the outgoing Chief Administrative Officer Kasese District said that there is need to have a strong Emergency Medical Services system that can make timely response and rescue whenever a disaster occurs and greatly applauds Malteser International for the perfect services they have rendered to the people who were affected by the floods. The District Health Officer, Dr. Yusuf Baseke, concurred with the CAO and explained that the state of the Ambulance system is still wanting within the district.
According to Baseke, the few ambulances operating at four health centers within the district are not yet well equipped to the international standards.
He explained that all Ambulances in the district are ill equipped, a reason why they have partnered with Malteser International so that the gap is closed.
"All Sub Health Districts have Ambulances but they are not well equipped, some lack oxygen and other tools and even the nurses who are found in the ambulances are not trained on how to offer first aid in case of accident including evacuating clients from the site of an accident", Dr. Baseke adds.
Laura Beutler, Malteser International and Technical Coordinator said that training health workers in pre hospital care response and human resource development should be sought to be one of the solutions to improve care quality.
"Kasese is a disaster prone area and therefore needs to have a strong Emergency Medical System that can make timely response and rescue when disasters occur" said Beutler.
The district stakeholders expressed their gratitude to Malteser international and their partners for strongly partnering with Kasese to save lives during the floods and extending the hand further to strengthen the district capacity for sustainability.
ENDS.