After six months of service as a Chief administrative officer Kasese district Local Government, Mr.Aggrey Muramira has handed over office to Mr Masereka Amis Asuman today 8th July 2020 at the district headquarters.
,Muramira expressed his gratitude to  the technical staff , political and development partners for the teamwork  during his term of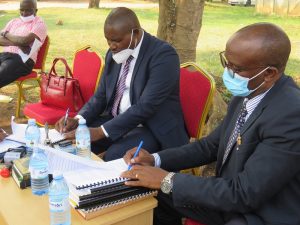 service which he believed had been of  remarkable impact towards serving the people of Kasese though shortened by his transfer. He talked about his plans to transform Kasese to a middle income status which he believed would be full filled by the incoming
CAO. Muramira said, "I leave behind a population of whom it was my wish of uplifting them to a middle income status but am confident that I have left behind a team that will be led by Mr.Masereka to achieve this noble objective".
Muramira's efforts to manage the disasters which befell Kasese District on 7th ,10th and 20th May  a few months after his coming to Kasese were highly appreciated and his enthusiasm to work with development partners and the central government to mitigate the effects of the floods and COVID 19.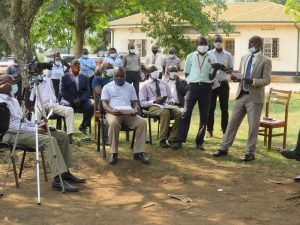 The District Chairperson represented by Hon. Gideon Ntabose the Vice Chairperson thanked the outgoing CAO for lobbying funds for the district especially for the district Administration block and the disaster. He also pledged support to the incoming CAO Mr Masereka Amis to continue serving the people of Kasese.
The incoming CAO Mr Amis Masereka pledged to the team leadership that will ensure team work, respect, accountability and transparency. He said, "As I pledge, be sure of solid leadership from me that infuses teamwork. Mine is playing number 5 and others will dribble in shooting the goal". He added, "Accountability and transparency are is key"
He assured the team of resilience, patience, tolerance and commitment.
While giving the closing remarks, the RDC appreciated the outgoing CAO for is significant contribution to Kasese district local Government especially during the floods and pledged more than 100% support to the incoming CAO.
Muramira Aggrey joined Kasese District Local Government on 10th January 2020 and has served for a period of 6months. His term of service has been of struggle with COVID19 and the flood though many who have worked with him especially the essential workers highly appreciate his exceptional leadership skills.
Welcome to the new CAO Mr Masereka Amis Asuman, Kasese continues looking at your support as it continues battling the effects of the disaster and COVID 19 and farewell to Mr Aggrey Winston Muramira, we shall always be grateful for your contribution.