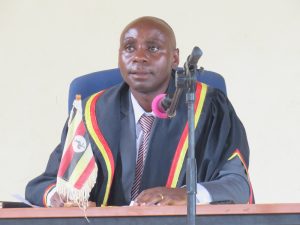 Yesterday 19th May 2021 there was a massive swearing in of the district council at the district multipurpose hall which was officiated by the chief Magistrate. The categories sworn in included the district Chairperson Hon. Muhindi Erifazi, District directly elected counselors and counselors representing special interest groups.
The swearing in event proceeded with council sitting where they elected the district speaker, vice chairperson, members of the district executive committee and chairpersons of sector committees.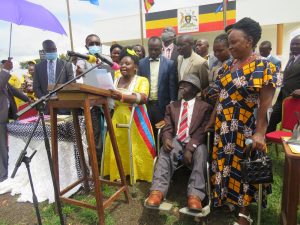 Members elected included ; Hon.Tsotswana Obed (Buhuhira ) for district speaker , Hon Nelson Masereka ( Muhokya T/C) for Deputy speaker ,Hon.Ithungu Jetress ( Nyakiyumbu ) for Vice Chairperson , and the members of DEC who included Hon. Macumu Christopher ( Karusandara ) for secretary social services , Mbusa Robert kisunzu (Bulembia  division) for secretary works and technical services and chairpersons of sector committees.
While addressing the council, the district chairperson Hon. Muhindi Erifazi Bukombi said in his Agenda 2021 – 2026  he is set to intensify the struggle for socio-economic transformation by promoting unity , peace and security , equitable service delivery economic empowerment through promoting commercial farming , leadership and management and cultural identity .
He emphasized the issue of working with the technical staff to effectively implement the parish model program to improve livelihoods of the people of Kasese.
The district council comprises of 76 counselors where 51 are for NRM, 21 are for FDC and 4 independent who assumed office with immediate effect.